Limestone. (Image from

here

)

I just returned from a conference at Washington University, St. Louis, organized by Colette Winn and Emily Thompson, on the topic of "Storytelling." I spoke on a panel that focused on non-textual stories, stories told in other media: Sheila Ffolliott (George Mason U.) focused on tapestries; Cathy Yandell (Carleton C.) looked at music, especially contrafacta in the context of popular songs turning into Protestant ones; and I spoke of limestone's ability to mix geo-stories and human stories in the early modern period (Jeffrey Cohen's book was clearly a welcome influence here.) One realization for me was that: while in the context of tapestries and music it seems (dare I say it) "natural" to talk without distinction of stories and narratives, with limestone (and other stones no doubt) it's perhaps less easy to switch between the two terms. Stones tell stories, but do they "own" or "display" narratives? Only if carved perhaps, only if they carry the human mark, if they don't tell the stories specifically "as stones." In any case: our narratological vocabulary is, usefully, put under pressure when we switch from words to tapestries to music and, finally, to exterranean media.
Powered by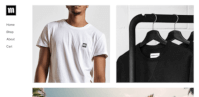 Create your own unique website with customizable templates.
Photo used under Creative Commons from Philliz88