This is an

interesting report

about the generally received notion that a mountain is more or less pyramidal in shape, narrowing off with altitude. Researchers set out to investigate this widely held view, finding instead that "pyramid-shaped mountains are not only a minority in nature, but also that most ranges actually increase in area at higher elevations." This is important—not just because we've been living with a distorted fantasy of what mountains look like, but because of the potential impact on conservation/environmental strategies. Because of the assumption that mountains are pyramid-shaped, scientists generally "project that as mountain species move to higher elevations to escape rising global temperatures they will face a consistent loss of territory"—but that might only be true for actually pyramid-shaped mountains. This does not mean that all is rosy out there, even when, because of global warming, certain animals might be able to go higher up a mountain with no major problems, that won't be the call everywhere because of other risk factors and difficulties. A major finding, then: in thinking about and planning conservation, efforts to show care for the planet, we must actually know what the planet looks like, which we shouldn't take for granted.

Image quoted from--and bigger version available--

here

.
Powered by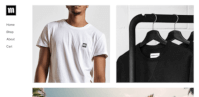 Create your own unique website with customizable templates.
Photo used under Creative Commons from Philliz88