In

Au fond des images

(2003), Jean-Luc Nancy makes the point that any given landscape (i.e. painted, imagined, etc.) obfuscates the land it represents, such that we no longer see the land, the physical reality of the trees, etc. The same point is what drives the exhibition

Animer le paysage

(June 20- September 17, 2017) at Paris's

Musée de la chasse et de la nature

, in which a team of artist-researchers from Science Po's SPEAP program (founded by Bruno Latour, run by Frédérique Aït-Touati) experiment with new ways of making phenomenologically available the physical realities of territory in the

Belval domaine

in the Ardennes. Printed on the wall, as one enters, are words from Latour to make the central claim in terms similar to Nancy's: whereas "nature" is mostly "that which we look at, behind a window, like a spectacle or a landscape" (

c'est ce que l'on contemple, derrière une vitre, comme un spectacle ou comme un paysage

), "territory" is something quite different, namely "that on which we place our feet, on which we depend, that which we shake at fear of losing" (

ce sur quoi on pose les pieds, ce dont on depend, ce que l'on tremble de perdre

). In other words, recasting territory as another kind of landscape, there are two forms of landscape: "the one that we look at frontally, in a detached manner" (

celui qu'on regarde en face, de façon détachée

) and "the other one in which we find ourselves inserted, and which holds on to us" (

celui dans lequel on se trouve inséré et qui vous tient

). This central message is brought home by the organizing opposition between (a) the (distanced, detached) view of a "natural" domain that one gets from a small wooden belvedere, i.e. a view of Johan Christian Dahl's

View from Stalheim

(1842) (Figure 1- in black and white in the exhibition); and (b) the rest of the exhibition, throughout which

other

means are tested out for accessing territory.

Johan Christian Dahl's

View from Stalheim

(1842)

(Image from

here

)

As tidy and simple as the notion of "landscape" can be, that of territory here reveals its complexity, its dirtiness, as well as the impossibility of selecting one way of accessing or representing it. I shall not try to summarize the exhibition's richness. I note only, to give an idea, that as one progresses through

Animer le paysage

, a collection of verbs serves to delineate some of the ways one might access territory by getting into it, close to it, etc. Thus, the photographer Sylvie Gouraud, drawing on the techniques of farmers and hunters, explores the idea of

traquer

(to track); Sonia Levy and Alexandra Arènes take up the task of

capter

(to capture), in order to show how the territory form of landscape is a "heterogeneous assemblage of the different forms of life that inhabit it

and

of the legal frameworks that construct it" (

[un] assemblage hétérogène des differrentes formes de vie qui l'habitent, mais également des institutions de législation qui le construisent

); Baptiste Morizot and Estelle Zhong Mengual take up the verb

pister

(to trail) via an interactive installation in which the museum visitor enters (alone! as per a sign) into a corridor, starts to walk forward on what feels like sand and is then, all of a sudden, surprised by a flashlight, as an animal might be trailed and suddenly shot (by a camera or a gun)—an image (of a trailed animal) then appears, and the visitor is invited thus to identify with, to put him/herself in the place of, that animal; Thierry Boutonnier takes up the terms

sillonner

(to roam, to criss-cross).

---

Animer le paysage

, as a whole, brings out many of the points that Latour makes in

Face à Gaïa

(2016), especially the fact that ecological thought must not be distracted by visions (e.g. of globes) that seem to promise totalization, but which actually make access impossible. There are many overlaps, too, with Latour's exhibition

Reset Modernity!

at the ZKM in 2016 (of which the

catalog is available

from MIT;

review here

). By denouncing the specifically Romantic and nationalist "Nature" of Dahl's

View from Stahleim

, and arguing for a re-earthing and re-dirting of the physical realities of the Belval domaine,

Animer le paysage

plays out—as probably goes without saying—a similar refusal of Romantic nature now familiar from Timothy Morton's

Ecology Without Nature

(2007). It also brings home the point that Morton makes at the start of

Dark Ecology

(2016), namely: "If we want thought different from the present, then thought must veer toward art." No one part of the exhibition

captures

or

represents

or

exhausts

the territory—and that is the point. It's an exhibition about piecing together, about gathering, about asking questions of those humans and nonhumans who live in that territory.

-For a full PDF document about the exhibition, click

here

. See also the issue of the (always fabulous)

Billebaude

journal related to the exhibit:

Sur la piste animale

.

-The exhibition has been reviewed in

Libération

and feature in the

journal of Arte

.

Phillip John Usher, August 9, 2017

Sonia Levy and Alexandra Arènes. Photo PJU.
Powered by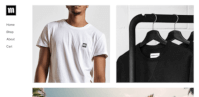 Create your own unique website with customizable templates.
Photo used under Creative Commons from Philliz88